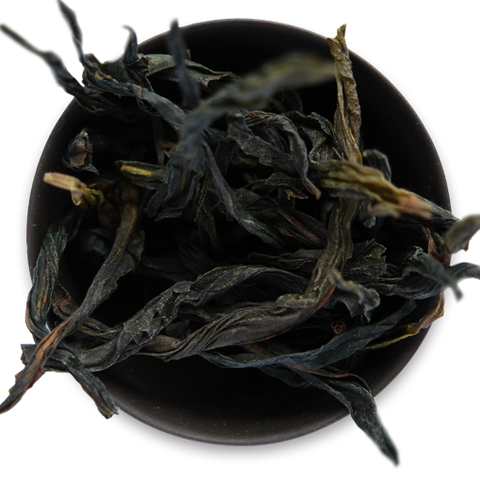 About Oolong
This famous and very special large leaf Mt Wudong Oolong tea is named 'Tong Tian Xiang' by the local villagers, which means to reach up into the sky.
The Mt Wudong Oolong tea features a uniquely sweet and uplifting floral aroma and is crafted by a famous tea master in Xiajiao village, China. The tea master follows an ancient production method which includes tirelessly working through the entire night to insure the tea is perfectly roasted.
The tea is lightly roasted and picked just once a year in spring from 40-60 years old Jiang Hua Xiang tea trees and can be infused up to 12 times.
We've selected this tea as an affordable option for those wanting to experience what truely high-end, expertly crafted tea tastes like. Now we know what you're thinking, $24 for 40g of tea is a little expensive right?
Well, when we take into consideration that 40g of Mt Wudong Oolong gets you somewhere between 20 to maybe 200 cups of amazingly delicate and fine tasting tea crafted by a true tea master, it's not so bad right? Just think what else could $24 buy you?
2 half decent bottles of wine - 8 glasses.
Half a dozen craft beers
6 cappuccinos @ $4 each
If you're looking to take the step into next level teas, this Oolong is the best value for money option around!
Brewing Instructions.
Everyday (economical)
1-2g of leaves per cup of water

Infuse with freshly boiled water (90°C).

Infuse for 10-20 seconds

Re-infuse up to 6 times, doubling the infusion time for re infusion
Traditional
Brewing vessel: Gaiwan (120-150cc capacity) or Yixing tea pot(120-150cc capacity)

Brewing water temperature: over 95°C. 

Use 5-8grams
Brewing Steps:


Warm up tea pot with hot water

Smell dried tea fragrance- Then put the teas in Gaiwan/Yixing Pot, cover the lid, and shake the Gaiwan/pot gently for about 3 seconds, then smell the dried leaves aroma.

Wash the tea quickly- Pour the hot water into the Gaiwan/pot and pour out the water quickly; then smell the tea aroma on the lid first to enjoy the pleasing Oolong tea aroma; 

First infusion- pour the hot water into the Gaiwan/pot again, and steep for about 3-5 seconds before pouring out(based on personal taste);
Coming infusions- the steeping time for the successive infusion can be 3-5 seconds longer than the previous infusion.